This work was created during the WoW/UNY Governors Island Residency. Jianna Jihyun Park was in residence on Governors Island from September 4-30, 2018.
1
wanted to reach the ocean bottom
and fall asleep there, i knew
of the blue caress
shredded sunlight
undercurrent lullaby.
it wasn't a wish for an end
just a wish for something bluer.
sleepless children dragged
their feet from one stone
to another as the mermaids
tried to snatch them with
refined reef, dreamless sleep,
sheep counting bubbles
coming out of a girl's gaping mouth.
close. open. no words, no teeth, hollow
cave of semi-pondered abandon.
deep down a whale crooned
open. close. visions undulate, blur—
when i became water
i knew of the coolness of her skin,
endless bed made of sand
where bodies lay
as if sleeping
as if dreaming
dreams leaking
sleepless sea
2
sea urchin gently poked into my finger
as I turned the stone and reach for the day's catch.
"too small," said the haenyeo who threw it
back to the sea.
on the news, a Chinese lady was preparing dinner
when a crawfish whisker poked her finger—
she died the next day of bacterial infection.
"what about dinner?" a child asks.
the diver who sent the baby urchin back
to the sea says it's too hot, one can't dine,
i mean dive, with the wetsuit on.
white reefs can't tell the living and the dead
while abalones hide deeper into abyss.
on the news, the dinner table is empty
& so is the ocean.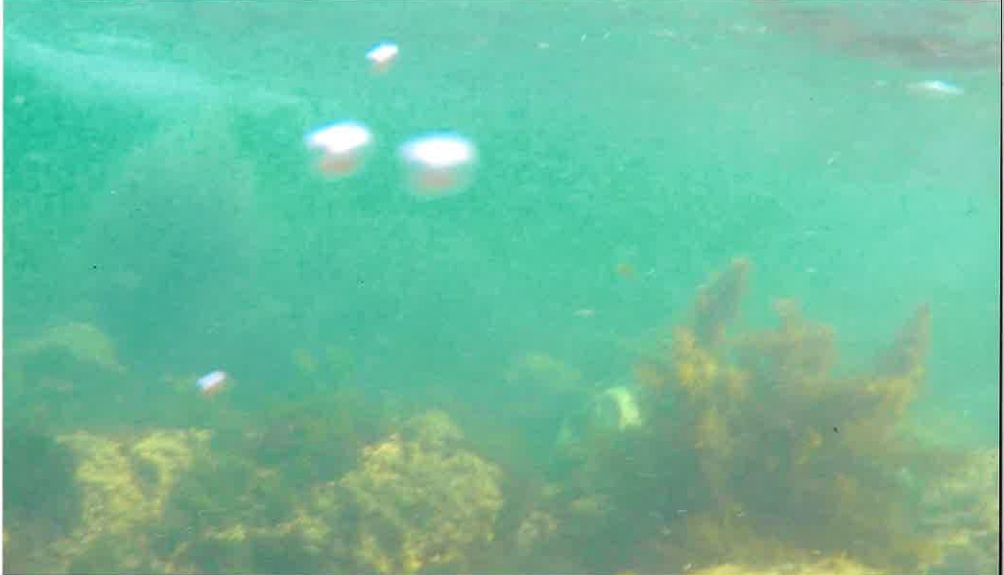 Materials: Digital C-print, clear label film
Artist Statement: How does a body endure grief and guilt at the twilight of neoliberalism that has often overlooked the values such as empathy, community, and sustainability? How is the role of haenyeo (female free divers) who dive into the cold water to collect memories of the ocean similar to that of an artist who seeks to retrieve memories of lost bodies? Combined with the images captured near the island, the texts examine the poetics of grief, loss and breath, and imagine a human ecology not subsumed by the economy of mass production and hyperproductivity.